Workshops
Upcoming Workshops
If you wish to book on any of these please book directly with the venue.
Fri/Sat/Sun 1st/2nd/3rd April 2022
3 day workshop
Moor Hall, Shropshire
'On the Edge'
https://www.bobbybritnell.co.uk/courses/short-courses/on-edge
Fri 29 July – Thursday 4th August 2022
6 day Summer School
West Dean, Chichester
'Fragile Forms'
https://www.westdean.org.uk/study/themes/summer-schools-visual-arts-and-craft
Fri/Sat/Sun 2nd/3rd/4th Sept 2022
3 Day Workshop
Moor Hall, Shropshire
'Quietly Composed ll'
https://www.bobbybritnell.co.uk/courses/short-courses/quietly-composed-11
Wed/Thurs 5th/6th Oct 2022
2 day workshop
The Granary, Winchester
'A Little Book of Leaves'
https://granarystudio.com
Workshops for Groups
These workshops are for booking by independent textile groups. Titles, content and the number of days are negotiable. Please contact me direct.
All workshops can appeal to both beginners or more experienced stitchers. For further details please email Amanda Clayton off.white@mail.com
My 'stitch' Facebook page (link) has regular updates on current and future workshops and lectures that I have planned as well as information on the content of my exhibition work.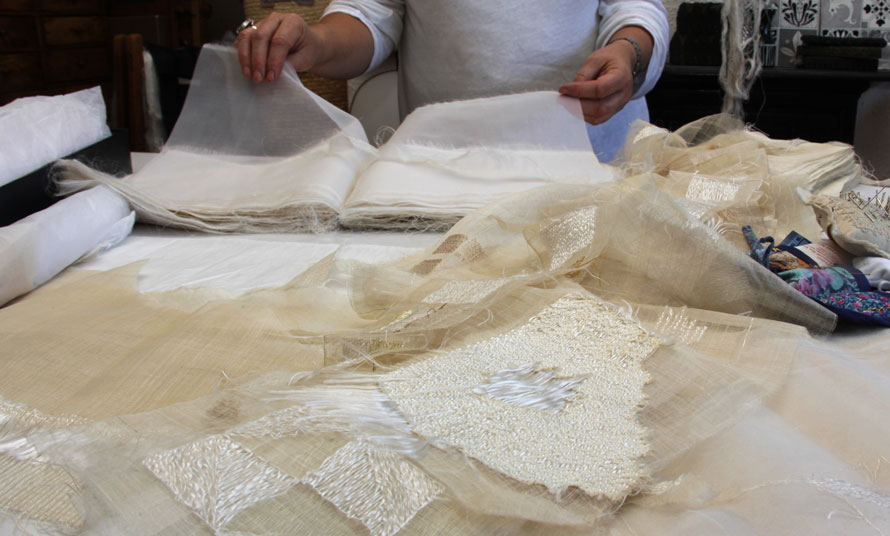 I have always maintained my joy of cloth and stitch as well as keeping a strong exhibition profile whilst teaching since graduating.
My main lecturing has been as a diagnostic tutor (Btec Foundation Art and Design) which encompasses all specialist areas of art and design all underpinned by a firm foundation of looking, selecting, and drawing.
As well as being involved in advising for the BBC on their Learning Zone project,
I have also been involved in a variety of teaching roles over the last 30 years.
This includes-
In-service courses for teachers
Prestigious specialist workshops at the RSN
Embroiderers Guild Headquarters
Denman College (W.I.)
Lecture tour in Canada
Working with Edge (Scottish Textile Artists)
Regional workshops for the Embroiderers Guild as well as summer schools
Visiting lecturer at specialist degree courses
My workshop and teaching philosophies have developed over time, and continue to do so.
I feel that we all look at the world in different ways and we all have our own way of selecting and digesting what we see and translating these qualities into cloth.
I am obsessed by the inherent qualities of cloth and the looseness of marks, which can be achieved so purely with needle and thread.
Fees and costs also on request.